Vision:
Producing successful entrepreneurs imbibed with leadership qualities using innovative and ethical business practices to make global impact
To prepare next generation of Entrepreneurs who would contribute to the Economic and Social Development of India.
Our vision is to aid the growth of our society by enabling entrepreneurs with integrity & sustainability and encourage individual ability and creativity.
To be a well recognized centre of excellence for entrepreneurship development to create successful entrepreneurs.
Mission:
Instill the passion and spirit among students to pursue entrepreneurship
To be the leader in enabling & facilitating entrepreneurs, support the sparks of budding entrepreneurs and manifesting the spirit and energy of young students from ideation to start-up to establishment and scaling up with integrity and sustainability through constant guidance & mentoring through various programs and schemes.
To foster entrepreneurial thinking, promote, facilitate the business knowledge. Develop aspiring entrepreneurs into motivated, ethical and dynamic business leaders.

Inculcating a culture of innovation and an entrepreneurial spirit on the campus, through various activities and campaigns.
Serving as a catalyst for entrepreneurship at Parul University by supporting and incubating entrepreneurial ideas.
Creating a strong foundation of academic learning in the field of entrepreneurship not only to acquaint students with concepts but also with the application of the same.
Long Term Goals (5 Years):
Motivate students to develop their own startups
Develop business incubators
Create corpus fund to seed ventures
Short Term Goals (2 Years):
To provide a platform for interaction with entrepreneurs
Impart entrepreneurial education/skills amongst students through various trainings and exercise
Arrange vibrant interaction with organizations promoting the cause of entrepreneurship.
Activities: 
Entrepreneurship Development Cell in collaboration with Department of Economics, St. Aloysius College, has organized a Guest Lecture on 1st October 2019 on the topic "Entrepreneurship Development". Mr. Prem Dubey, President, Jabalpur Chamber of Commerce was the speaker of the program. 90 students had attended this lecture.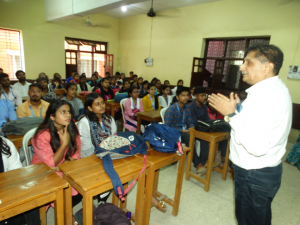 Entrepreneurship Development Cell in collaboration with Incubation Center, St. Aloysius College, has organized a Micro Seminar on 11.09.2019 on the topic "Entrepreneurship Awareness". Resource Persons for this program were- Mr. Agranshu Dwivedi, G.M., Smart City, Ms. Barkha Upadhyay, Assistant, Smart City, Jabalpur. 75 students had attended this lecture, and the students of St. Aloysius College presented their innovative ideas in front of the resource persons. The ideas were very much appreciated and some of the students received funding from JIC to convert their ideas into reality.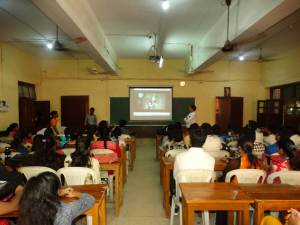 6 days Skill development program was organized for the students of M.A. English Literature and (M.Sc. C.S.) on 06.03.2020, where the students were allotted project topics and they need to sell out their idea of innovative business as per their projects. Students did field survey and sold their product/ ideas into the market. Dr. Ashu Jain and Dr. Mamta Gokhale were the resource persons.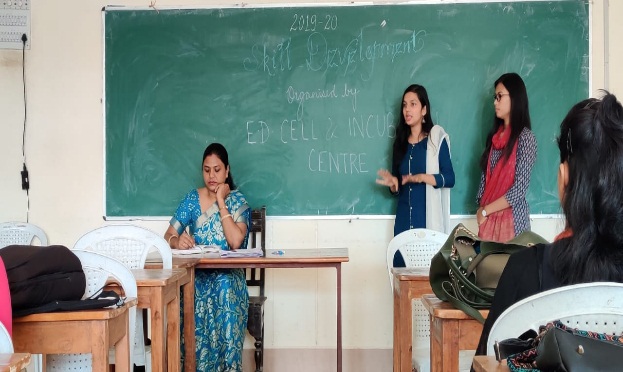 Three Days Entrepreneurship Awareness Program and Best Innovative Business Idea Competition organized by ED cell, St. Aloysius College, Jabalpur, MP. The resource Person for day 1 was Prof. Dilip Nandkeolyar, Co-Chancellor, Commonwealth University, London and Mr. Subhayu Roy, Cofounder, Notebookstudy.com. for the second day first speaker was Mr. Amit Gupta, Cofounder Mergerdomo.com and second speaker was Ms. Parul Goel, State President CIMSME and Cofounder Jusmark Group. For the third day 1 speaker was Ms. Vishakha Khetrapal, Consultant and sustainability professional, in the second phase there were best innovative business idea competition held. Total number of students were 100 and participants were from different states like- Maharashtra, Andhra-Pradesh, Rajasthan and MadhyPradesh.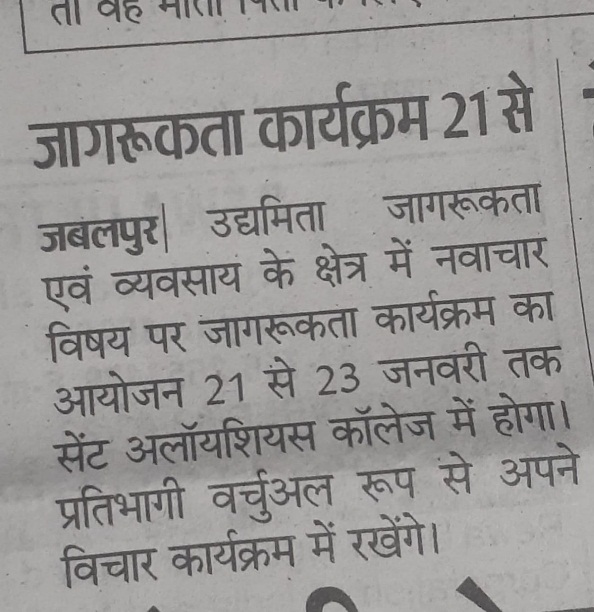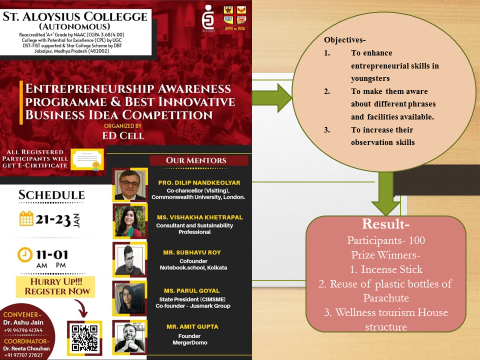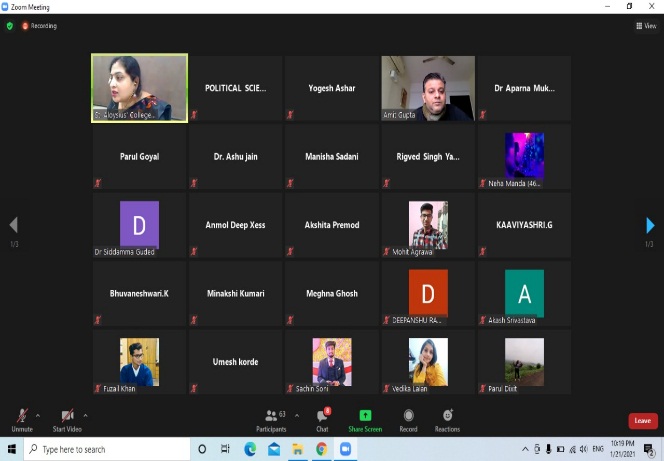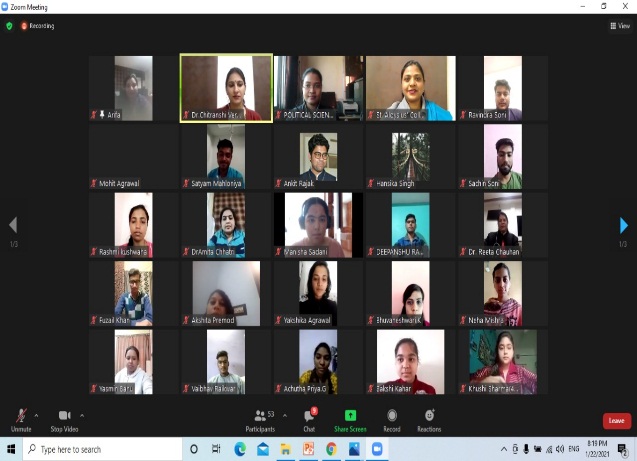 Three Days Training Program on "Empowering Entrepreneurship- Best out of Waste" Organized by Entrepreneurship Development Cell in collaboration with Women Cell, St. Aloysius College (Autonomous), Jabalpur, M.P. on 24th to 26th February, 2021. The aim of the training program was to provide training that how the students can use waste materials to make useful things. The trainers were Mrs. Anshu Agrawal, Teacher and Facilitator, Pidilite, and Mr. Neelesh Mourya, Asst. Professor, faculty of Fine Arts.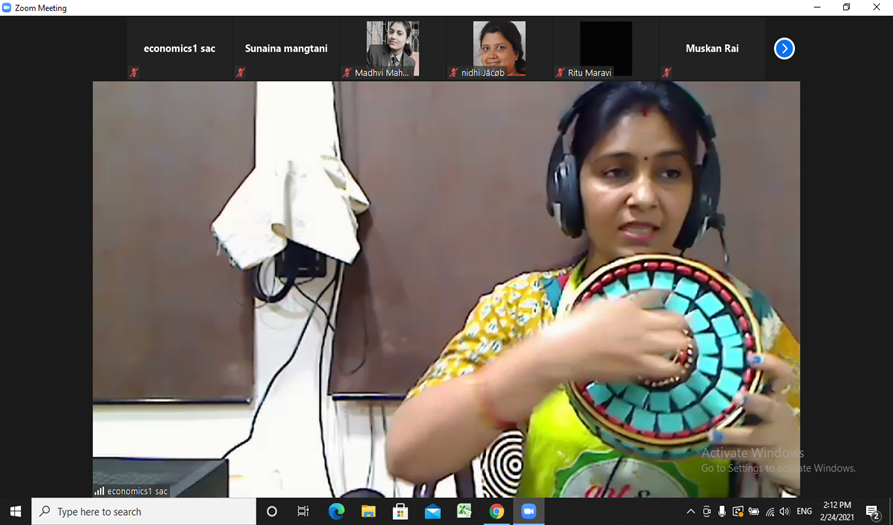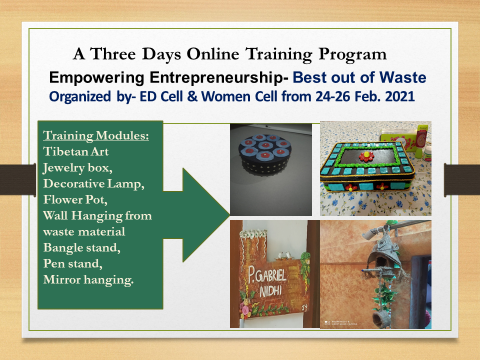 Following are the glimpses of useful material prepared by the students after workshop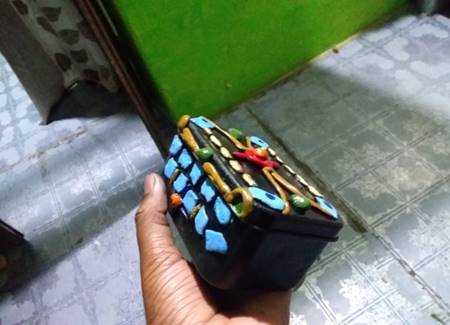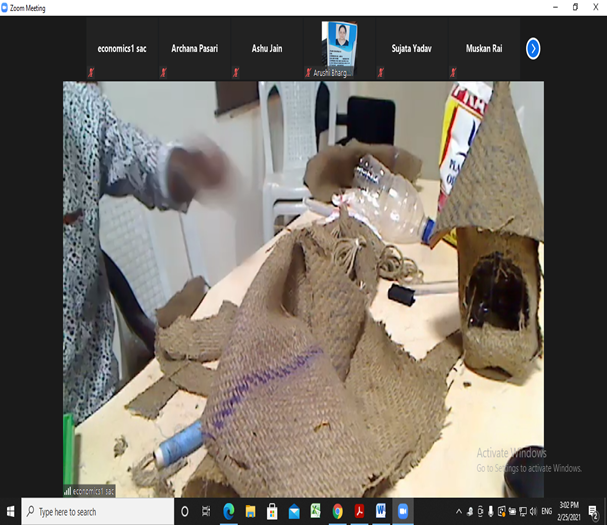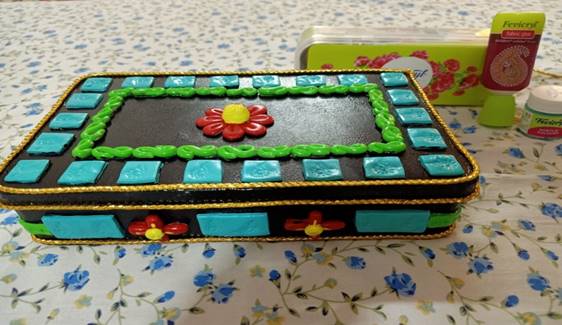 Three Days Program "YESS- Young Entrepreneurs to Start-up Stars (A Begining)" conduced by ED cell in Collaboration with Jabalpur Incubation Center on 10, 11 and 12th June 2021. More than 100 students of U.G have participated. The aim of YESS program was to spread awareness about innovation and Patenting. Key speakers were- Ms. Preeti Singh, Director on MNC Boards and POSH Committees lead,  on the topic 'All you need to know about Start-ups and Latest Trends in Startup Industry' , Ms. Pooja Kumar, Director, Innove Intellects & IPR Expert, on the topic 'Importance of IPR for Startups and research associates' and Mr. Agranshu Dwivedi, Incubation Manager, Jabalpur Smart CityIncubation Center, called for innovative ideas from students. 10 Innovative Ideas were presented out of which 2 ideas of Mr. Rovin Singh from B.B.A. and Mr. Pratham Naidu from B.Com. have been selected for further guidance, mentoring and funding.