Placement Cell
To Empower Students To Face The Challenges In Their Career
Vision: To be a comprehensive source of career options for the students of the college.
Mission: To empower students to face the challenges in their career.
Objective: To enrich our students with the right set of knowledge, skills and aptitude and guide them in their career progression.
Placement Cell at St. Aloysius was established in the year 2004. Since its inception it has grown manifold and it continually works on upgrading and preparing its students to embark upon their career paths.
Various in house training sessions and workshops are being conducted to train the students and enhance their communication skills, public speaking, logical & critical reasoning and aptitude. Sessions are also being undertaken to hone their interview skills, soft skills, leadership skills,  corporate etiquettes, time management and stress management. Mock interview drills, group discussion rounds, role play activities, personality development sessions are also being conducted throughout the year with the sole aim of equipping them to face the challenges and making them future ready.
Placement cell also conducts several career guidance sessions by industry experts and career talks by the multifaceted alumni of the college so that the students can gain better real world insights through them. Along with the campus drives, various internships are also provided to the students to gain hands on experience which would further help them in moving towards a purposeful and fulfilling career.
PAST RECRUITERS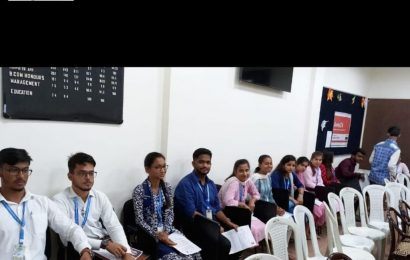 On 20/09/2022, the placement cell of St. Aloysius College Autonomous (Jabalpur) organized the Campus drive of Awas 24, the Mr Apoorva Mishra  | Chief Executive Officer | Bengaluru Headquarters, and  Mr Ayush Mishra | Chief Operating Officer | Awas24, Bengaluru Headquarters conducted pre placement session for final year students followed by campus…
TESTIMONIALS

Mayank Rajak
Operations Executive ,Infosys Ltd.
My journey for past 3 years as a Bachelor of science student at St Aloysius College Jabalpur was a great experience. I got tremendous opportunities to learn new skills and to meet different kind of people, I am also pleased by the quality of education and the extracurricular activities provided by the college, which helps in the holistic development of a student.

Brinal Dsouza
Trainee-Wipro limited
My three years at St. Aloysius College have been excellent.The faculties and placement cell have been very supportive throughout the course.I am very greatful to them for helping me to grab first ever opportunity of my career.My education at St. Aloysius College was an experience for lifetime and will stay with me forever.

Parkhi Gupta
Sales Executive , NoBroker
The placement cell at St. aloysius College provides an efficient process of getting students job,all the experience I gained during the placement activities will help me stand out in my job.

Aastha Singh
HR Recruiter ,Tech Mahindra
Being a SAC student I am very honored to have support form our teachers and placement cell,they have always been there for me . Our college has a good environment to go and learn for and if we utilize all providers which colleges gives to us then surely we willl have an remarkable career 💯🥳….!!!
PLACEMENT ACTIVITIES
2023 -2024
On 30th September ,Placement Cell organized a Career Boot Camp in which experts from various domains of corporates  were invited for an interactive session with the final year students. Resource persons called were Mrs. Garima Golchha , Founder and CEO of  Greenglo , Mr. Shivank Ashutosh, Media & Entertainment, Reliance Broadcast, Mumbai, Mr. Jeet Agrawal, Deloitte, Mr. Supreet Agrawal, Chartered Accountant, Ex  EY, KPMG, Mr. Vedant Diwan, HR, Walmart .These resource persons guided the students about various career options after graduation and how they can pursue such goals.Students were guided on career opportunities in the domain of finance, Media and Communications, Marketing and HR Analytics.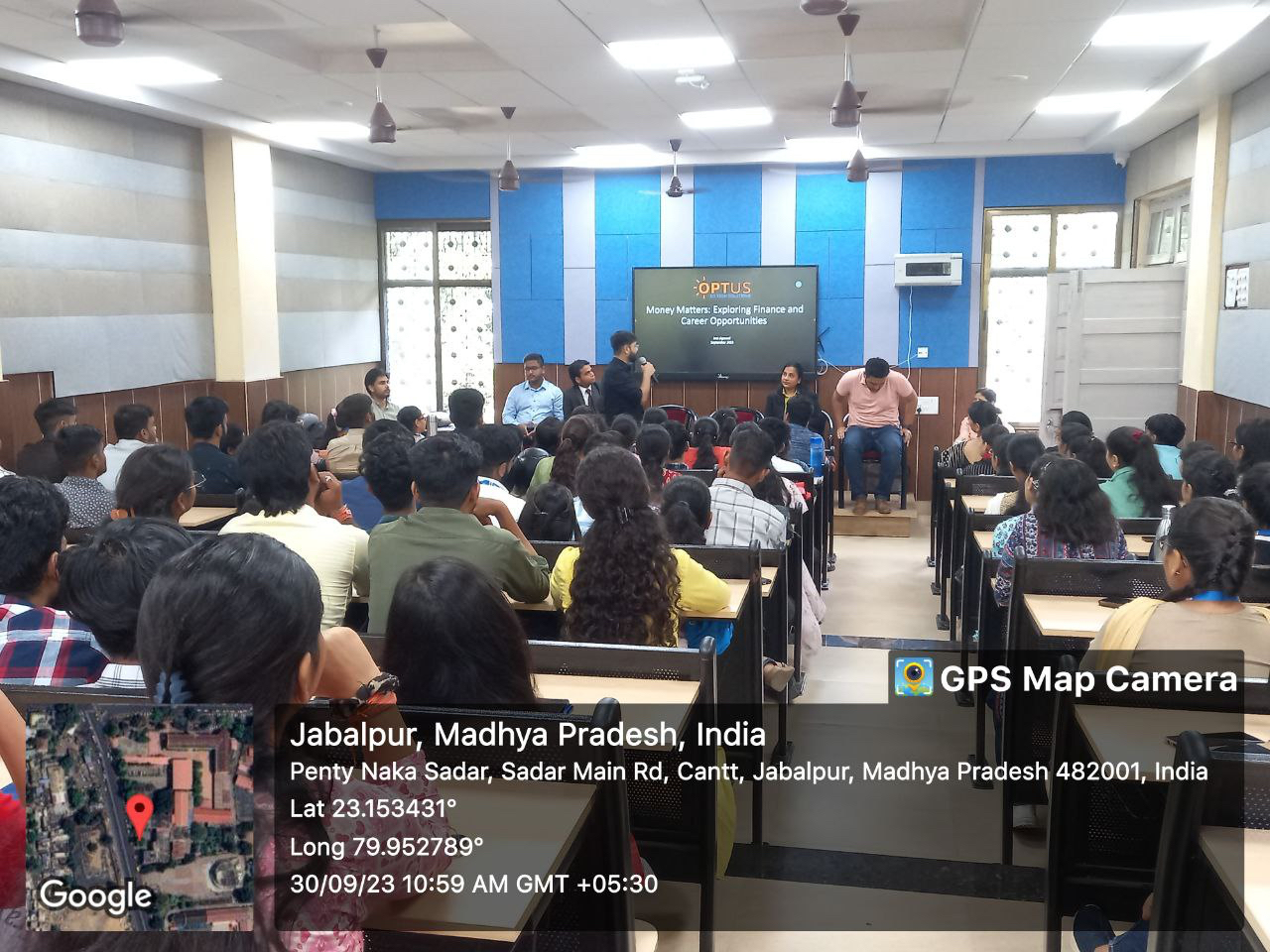 On 23rd September, placement cell commenced with Udaan classes for preparation for written tests wherein students were taught Verbal and mathematical aptitude, logical reasoning and data interpretation  along with mock interview exercises and group discussions. 80 students have enrolled for this 7 week training  module.
On 16th September 2023, Dr. Archana Rathore, IBS, Dean ICFAI , Jaipur was invited by placement cell to deliver insights about the soft skills requirements in the professional sphere and ways of enhancing the personality. She gave her valuable suggestions on changing the job environment and role of soft skills,challenges faced during team work and role & qualities of a leader,Mind & Stimulus connection, types of soft skills.and interpersonal skills.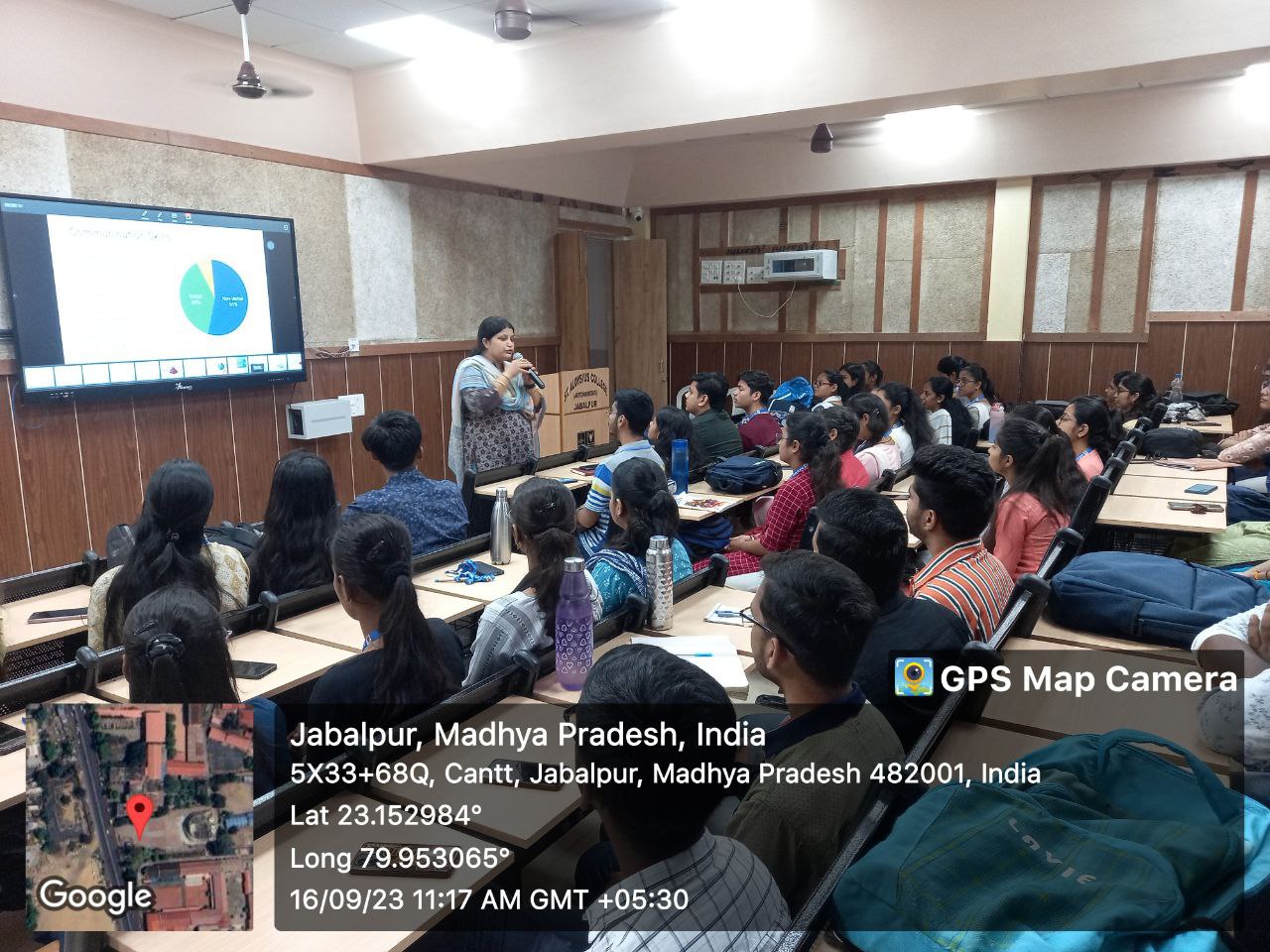 Placement Cell Organized Udaan Orientation Session on 26th August'23 for final year students. Resource persons   were   Mr. Abhishek Agrawal and Mr. Tapas Das from TIME Institute. Students were given inputs on the need and importance of upskilling and training .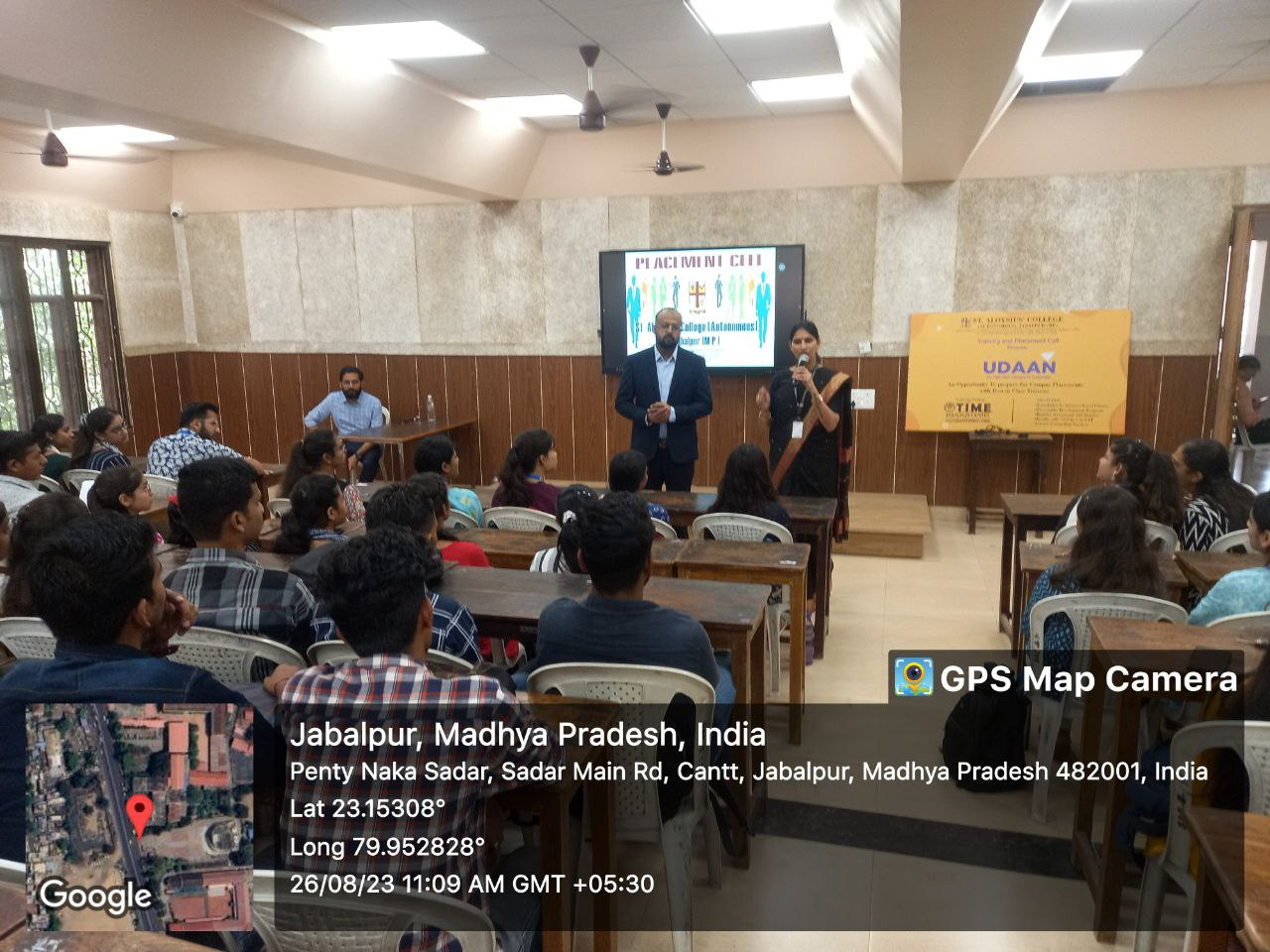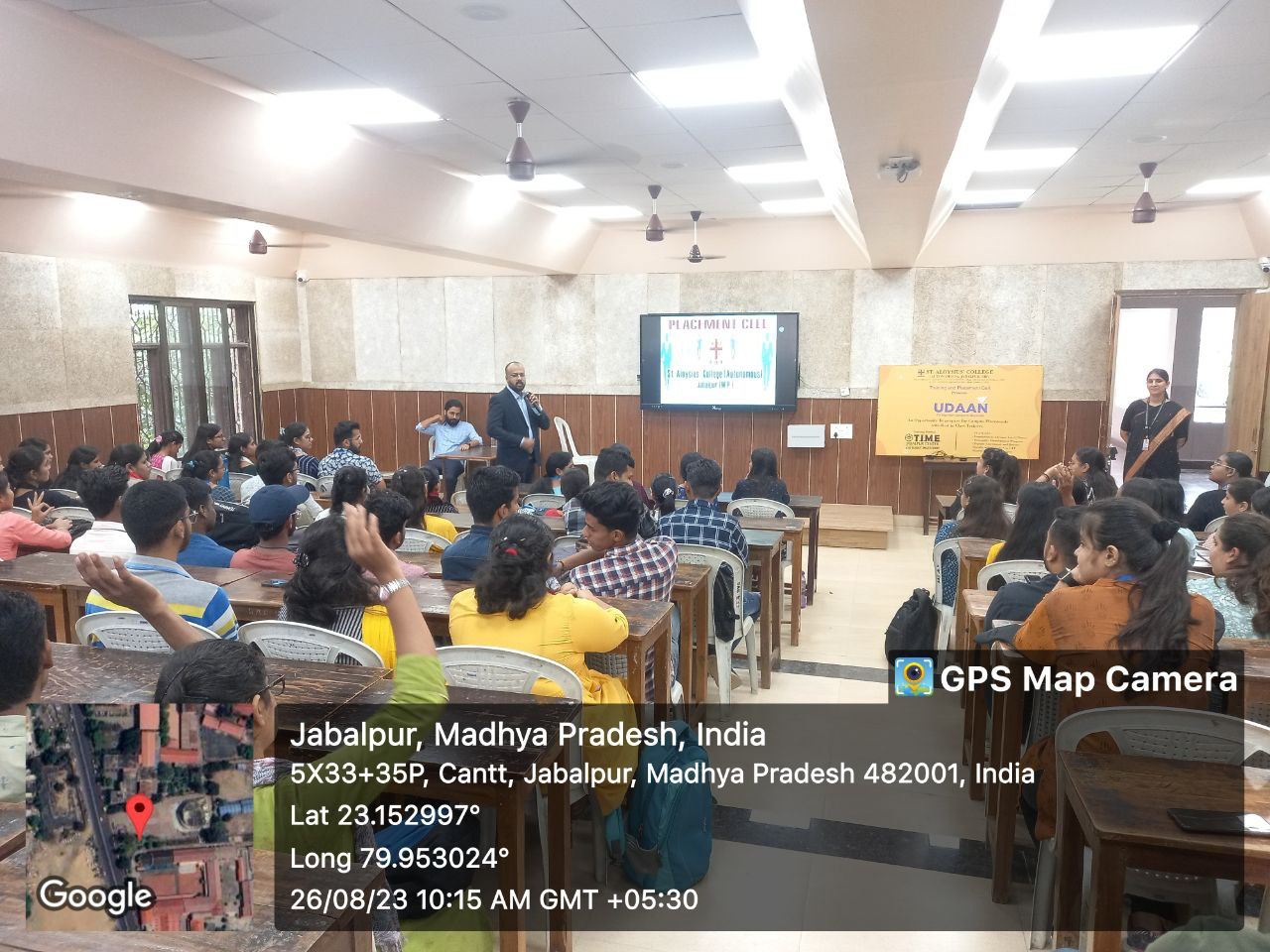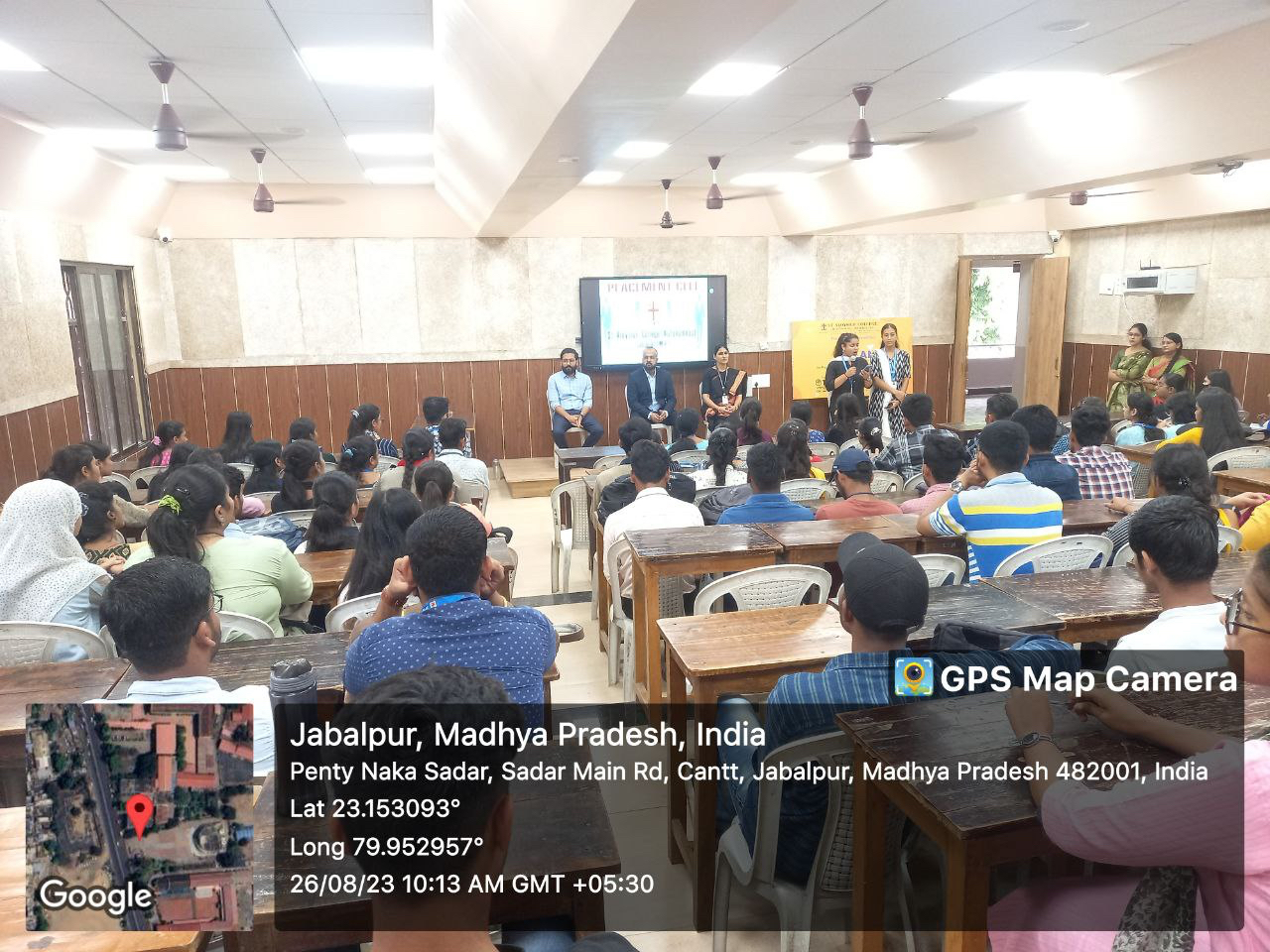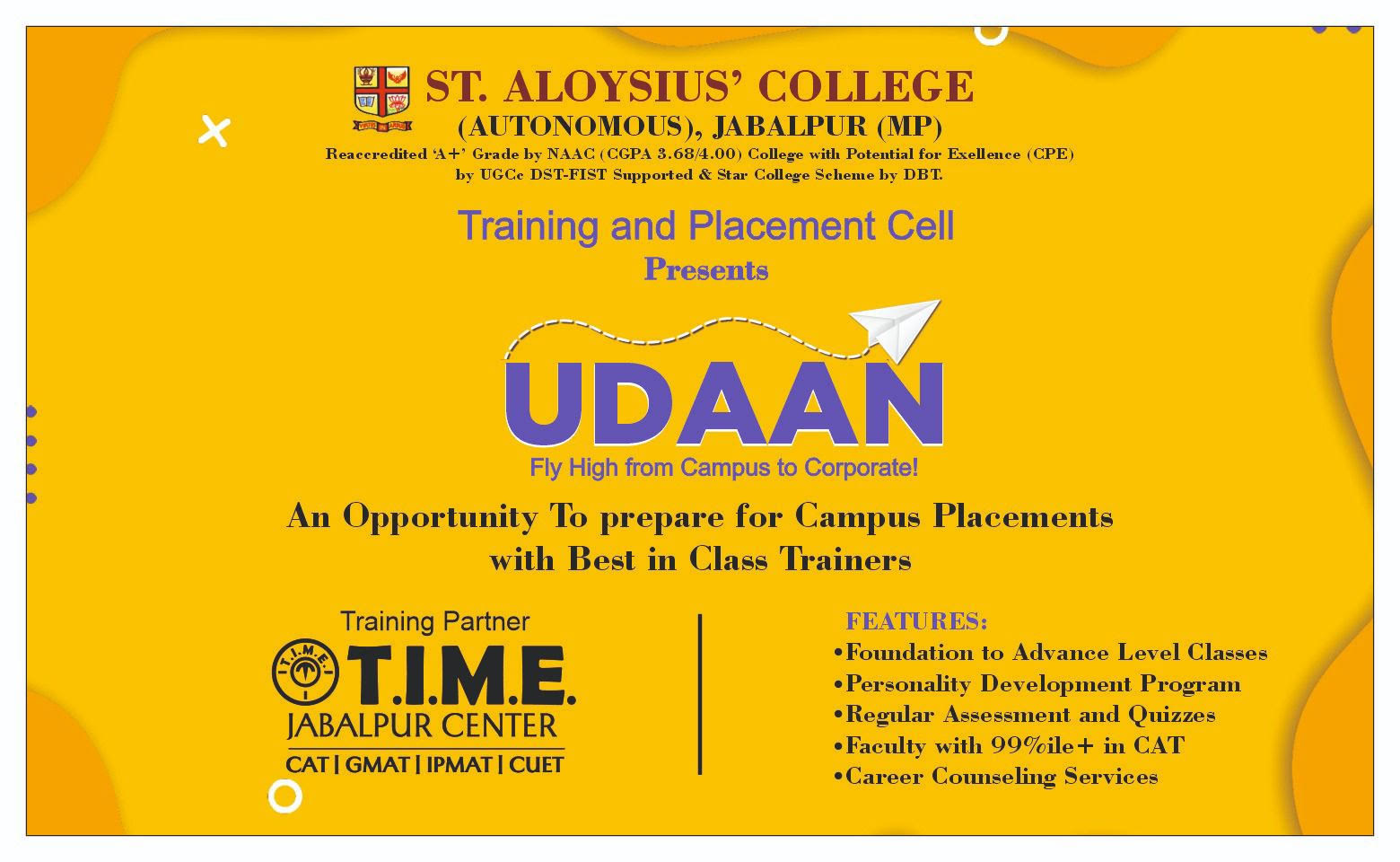 On 5th Aug'23, 

Placement

Cell of college organized a session on Capital Market Awareness wherein   resource person  from Bombay Stock Exchange delivered his insights on functioning of Stock  Markets  to B.B.A and B.Com. students.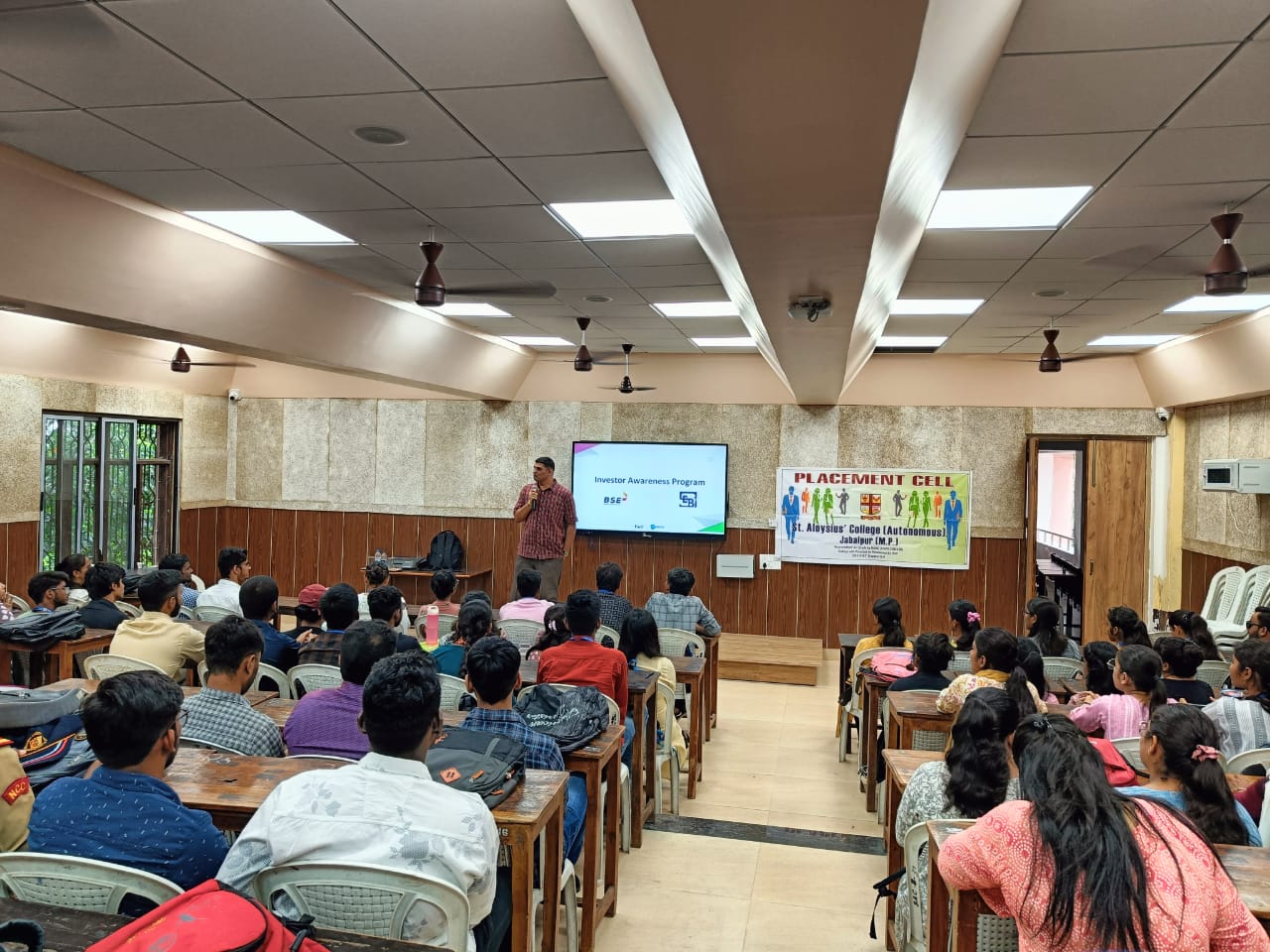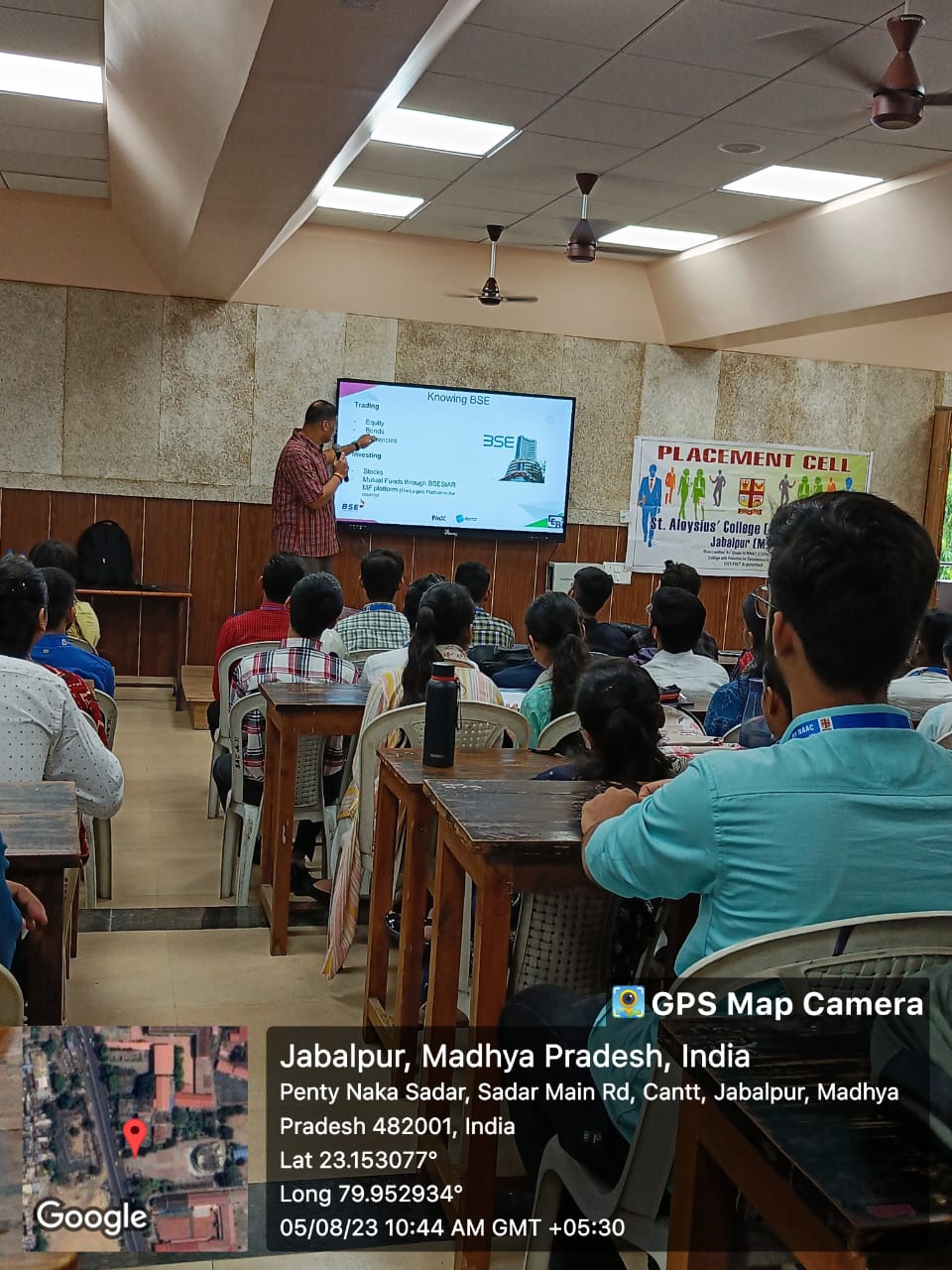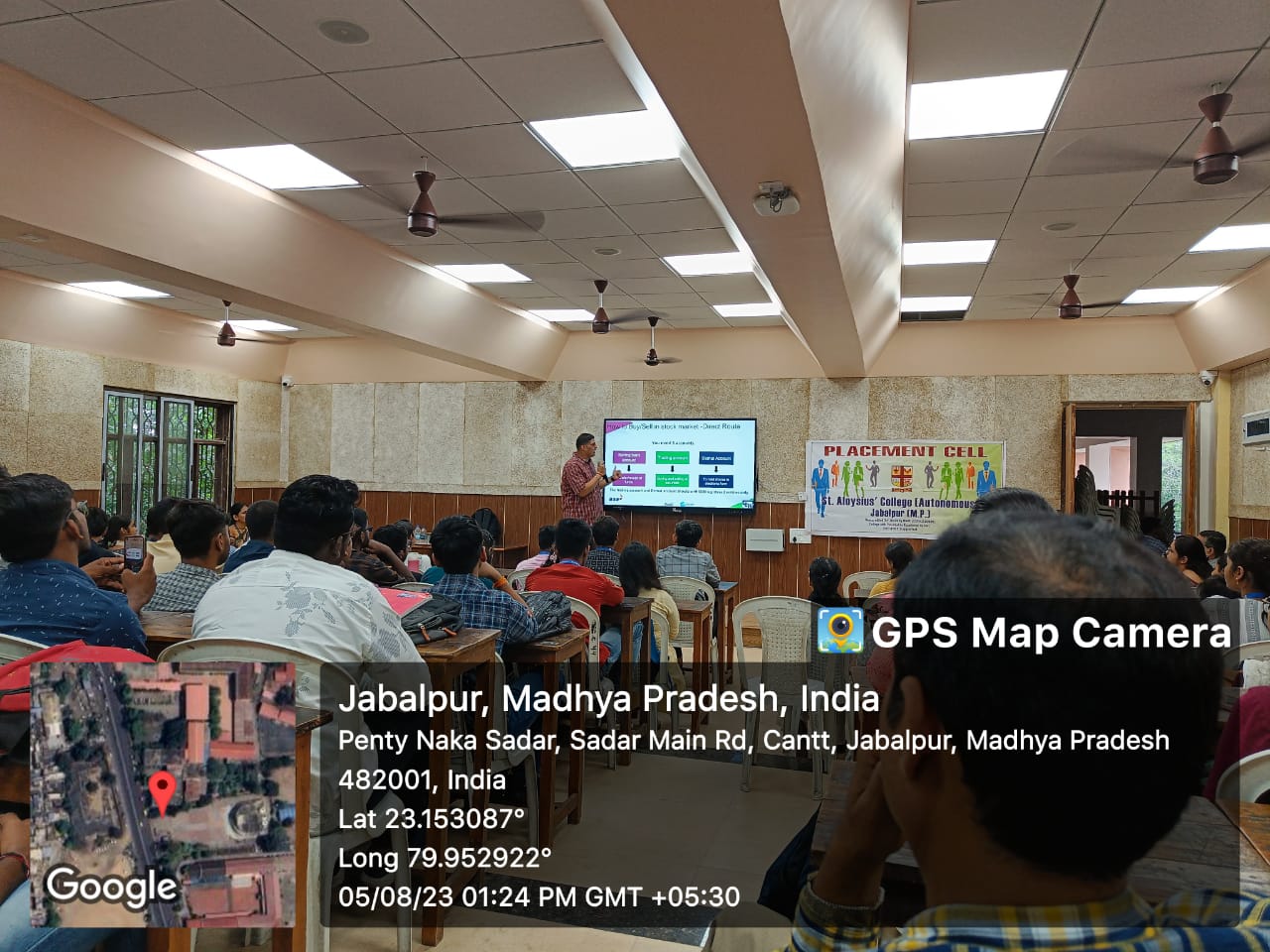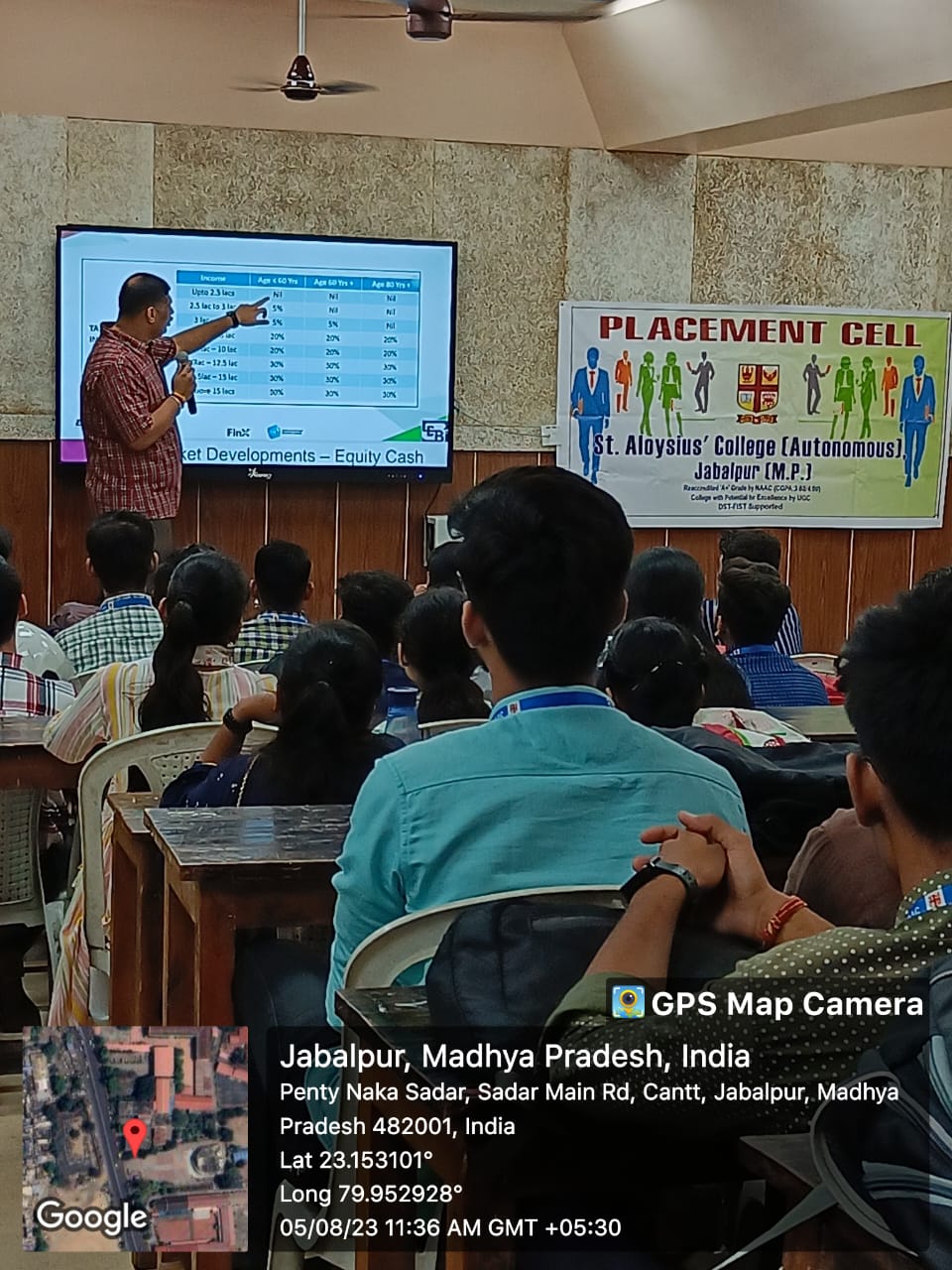 Photo Gallery
Student Placement