Placement Cell
To Empower Students To Face The Challenges In Their Career
Vision: To be a comprehensive source of career options for the students of the college.
Mission: To empower students to face the challenges in their career.
Objective: To enrich our students with the right set of knowledge, skills and aptitude and guide them in their career progression.
Placement Cell at St. Aloysius was established in the year 2004. Since its inception it has grown manifold and it continually works on upgrading and preparing its students to embark upon their career paths.
Various in house training sessions and workshops are being conducted to train the students and enhance their communication skills, public speaking, logical & critical reasoning and aptitude. Sessions are also being undertaken to hone their interview skills, soft skills, leadership skills,  corporate etiquettes, time management and stress management. Mock interview drills, group discussion rounds, role play activities, personality development sessions are also being conducted throughout the year with the sole aim of equipping them to face the challenges and making them future ready.
Placement cell also conducts several career guidance sessions by industry experts and career talks by the multifaceted alumni of the college so that the students can gain better real world insights through them. Along with the campus drives, various internships are also provided to the students to gain hands on experience which would further help them in moving towards a purposeful and fulfilling career.
PAST RECRUITERS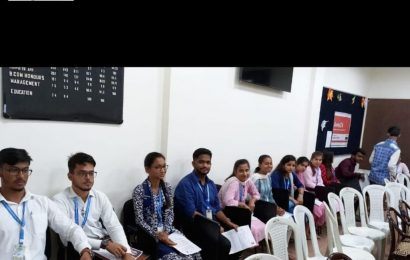 On 20/09/2022, the placement cell of St. Aloysius College Autonomous (Jabalpur) organized the Campus drive of Awas 24, the Mr Apoorva Mishra  | Chief Executive Officer | Bengaluru Headquarters, and  Mr Ayush Mishra | Chief Operating Officer | Awas24, Bengaluru Headquarters conducted pre placement session for final year students followed by campus…
TESTIMONIALS

Himanshu Subramaniam
Managing Director at WHIZ Software and Business Solution
Land of opportunities... one of the best places to study..

Atmanand Dubey
Director at Sarvodaya Education society
The college has filled my head with knowledge and filled my heart with the love of learning. I am where I am, and who I am because of the learning I received during my Aloysius days. For that I thank my college. Thanks to all Respected Faculties and Mentors for teaching me to believe in myself.

Daziy Millar
PHP Expert
I thoroughly enjoyed courses from here and hope to expand on my gained knowledge about making apps. The courses as well as the examples are well presented, easy to follow and engaging.